Google Analytics is one of the best service by Google, no other service can give as accurate stats as Analytics do, the information on demographics, visitors, source everything is perfect, but there's one thing that annoys most of the Google Analytics users and it is the "Not Provided" term in keywords.
To decode "not provided" keywords it is important to know "Why Google does so?" Google hide this data in concern with the user's privacy, when a logged in Google user (i.e. SSL encryption is turned on) performs a search referral data related to that very search is hidden as this data lets you know about the keyword entered by that very logged in user. This referral data is only visible to Google and no one else can access this data neither the owner of Website nor the Google Analytics User. This build a wall between analyzer and analytics reports. But with certain tricks this data can be accessed.
Before you move with the following procedure, make sure that you know what all organic search keywords have labelled as Not Provided, as decoding activity takes a lot of time and efforts so it won't be of any sense wasting your time for this. The following will not impact your previous data, so everything you will get would be regarding future traffic.
1) Decode Landing Page Reports
For this you need to follow the following steps:
Login to your Google Analytics account
Click the Admin Tab
Choose the profile you want to work & Click on option Filter
In Add new filter, Name your filter as shown in image
Choose advanced under custom tab
Here you will see different Field A, Field B & Output as shown in image, enter the following values:
In Field A -> Extract A, choose "Campaign Term" and enter the value (.not provided.)
In Field B -> Extract B, choose "Request URL" and enter the value (.*)
Output to -> Constructor, choose "Campaign Term" and enter the value (np – $B1)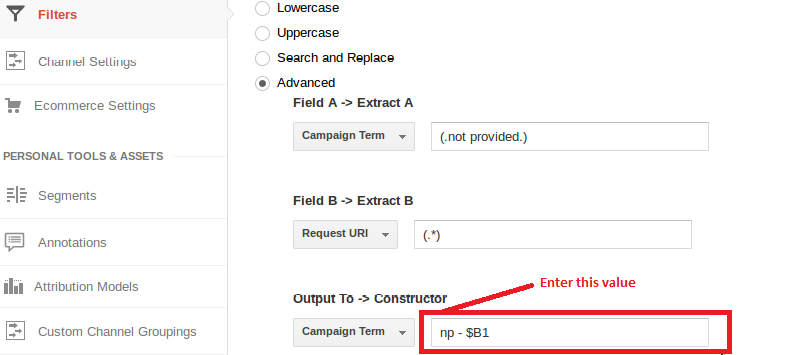 In checkbox below these option mark all the options i.e. "Field A Required", "Field B Required" and "Override Output Field"
Click Save.
This process is done to reveal the not provided terms, although you will get the exact not provided terms. This will help you with knowing the
2. Decode SEO traffic
The next is analyzing through the Search Engine Optimization traffic this option in Google Analytics is very helpful for the user. The Queries option in Search Engine Optimization is specifically designed to analyze your most used keywords. This data is not updated daily so for websites with heavy traffic may not find this data very relevant but for websites with lesser traffic can track these.
3. Decode Adwords Data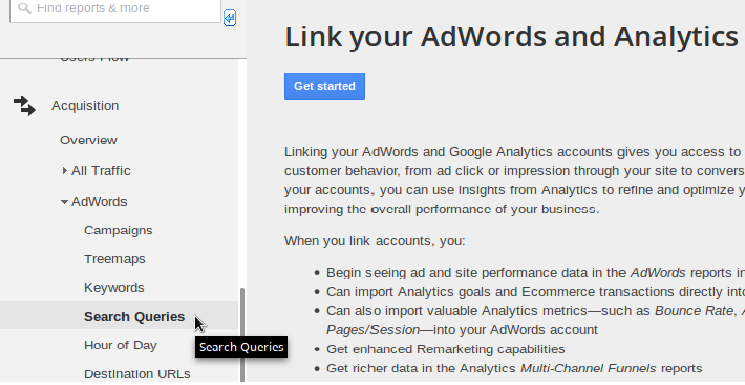 Not provided doesn't have issues in paid search i.e. the traffic derived through advertising. This means the results through Adwords remain unaffected so that you can analyze different response rate for keywords and decode the results easily with the help of PPC. You can find the Search Query option in Adwords tab at Google Analytics from where you can do this analyzes.
4.  Decode From Webmaster Tools
Google Webmaster is not considered as good as Google Analytics is but the integration of both the platforms for the sake of knowing the not provided terms would be very beneficial. You can integrate Google Webmaster with Google Analytics from Search Engine Optimization tab. After integration your data is updated, Webmaster tool tells your every impression you have for each link and Analytics tells you about keyword and accordingly you can analyze the data according to your keywords. Hence the not provided keywords decoded.
You will imbibe the whole process when you start analyzing things again and again.
Have any query? Ask us in the comments below!