A new year is the time for new beginnings, and this article is about a few B2B SEO strategies that can do wonders to your online footfall. Did you know that SEO tactics only marginally beat social media marketing? Yep, it's true. Here are a few important pointers for you:
The importance of Content: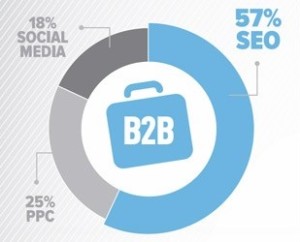 Here is something that not many digital marketing agencies will share with you – their genuine personal experiences. Amongst all those clients YNG Media worked the content for last year, those who put up at least 5 fresh content marketing assets per month on their websites saw an average increase of 52% in their search traffic over the past year.
There is no under estimating the role of new and fresh content. Add to that YNG Media's hard core conversion optimization and solid management principles, and you have sure shot formula to attract more clients to your website.
 Following are the most successful types of content marketing assets that we experienced in 2012:
Developing your blog's posts.
Keyword-targeted SEO landing pages.
Heavy use of info-graphics.
Industry related updated content
Always focus on your Performance
Google has changed its game – it now wants to completely get rid of ranking data as a performance metric. This puts a lot of pressure on marketing agencies to have an in-depth knowledge of the reasons behind the digital traffic on your blogs and websites.
Another heavy change was the average number of "not provided" search referrals which had increased in the second half of 2012, not to mention the fact that an increased number of users searching while logged into their Google accounts. This is why it's a good bet to move to a more secured search experience overall.
For a complete understanding of our clients' B2B ventures, YNG Media focuses on the following measures:
Performance Metrics: A thorough understand is what you need, and that is exactly what we give to you. Our monitoring includes bounce rate, page views/visit, conversion rates, and neatly drawn comparison between your strategies and those of your competitors,
 "Not Provided" Landing Pages: To find out where your "not provided" search referral traffic leads to and how we can convert it into useful traffic.
 Focus on traffic patterns: So that we know exactly the kind of visitors you get, and why you get them via the "not provided" search engine referrals. We then use it to understand the equations of your traffic inflow.
SEO Collaborations
Collaboration between various departments and vendors has become necessary for businesses to maintain and increase their success. Here's how you can go about it:
PR agencies help you identify patterns in social media and website activities, and help you come up with an overall network development plan.
IT and web development teams give you better functionality and newer SEO enhancement tools.
Sales and customer service take care of customer challenges and other such business needs
 On a final note, you need to focus on whichever B2B strategies worked best for you, and always be on the lookout for anything innovative or creative. Do not be afraid to try out new things. Always remember – great risks are behind great successes.