Known for surprising online marketers by its various updates and functionalities, Google is now testing a new feature to add to its product listing ads module. In order to facilitate online shoppers, Google can display a percentile comparison of discount prices for a particular product available across different online shopping portals.
This Value Alert test will tell shoppers about the percentage of discount they will get when compared to the average price of product in the promotional copy.
SearchEngine Channel Advisor, when noticed the change, speculated that Google has pulled the average prices of the product across Google Shopping.
Aaron Putnam, also illustrated the execution of PLA change in his tweet. He has projected how this test appears before the users hover over any particular ad. As the user hovers over the ad, he will get to see a difference mentioned in percentile value of the product. This value is mentioned just below the retailer's name.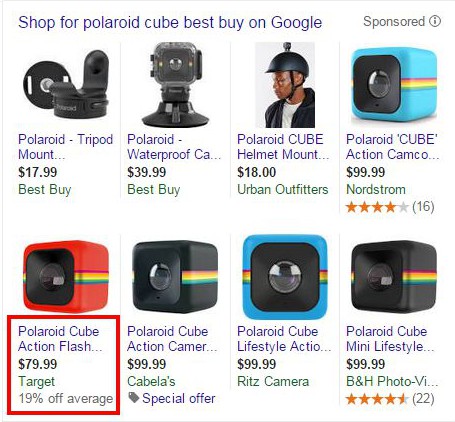 About this testing process, a Google's representative would have stated ,"As part of our efforts to help people find great deals and useful pricing information, we're currently running a small test of a feature that highlights particularly good prices for products."