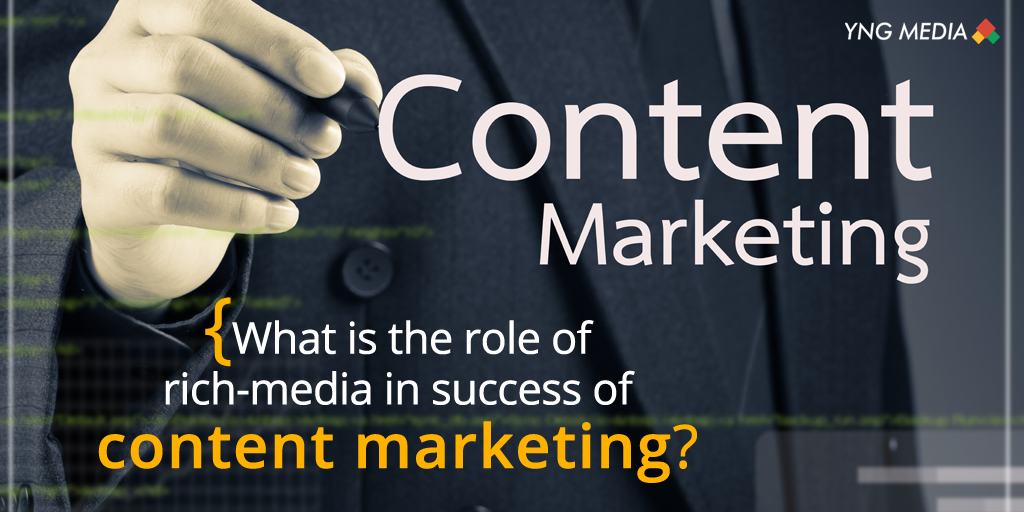 Before moving on to the importance of rich-media in success of content marketing, let's first have a look at what is 'rich-media' exactly.
In the mobile world, where the number of users accessing content on smartphones and tablets is growing rapidly, content marketing has got more dependent on instant interaction and enhanced engagement, which is not possible with just plain text or image based content. Here comes rich-media that creates shareable and interactive content with a meld of animations, streaming videos, audios and other interactive elements. These are much more attractive than text or static image based content.
This might sound very easy and interesting to publish content through audio, screaming video etc. but at times content marketers get confused with the selection of right media for their business. Find below some of the rich-medias, there benefits and right application to optimize content marketing results.
Catch the audience where it spends most of the time online
Gone are the days when you could just publish content and expect people to find you with basic digital marketing efforts. Now you need to put efforts to find where the online audience loves to gather and create content according to the platform.
For instance infographics, white papers and interactive are some of the best options to grab attention of viewers with visual content. If you have a large audience base of learners, YouTube videos can prove to be very helpful for you.
Enhance viewer engagement with creative techniques
Quality of content and the time viewers spend on particular pages have huge impact on the ratings in SERPs. One of the easiest techniques a lot of marketers are using today is to offer whole content on single page through scrolling. It not only makes the plain text content look more impressive, but also increases engagement time on the landing page.
Convert readers into followers
Driving traffic to read the content is just half the race won. To get a long lasting hold in the market, convert your visitors into followers. Just have a look at any leading brand, they have strong presence on almost every social media platform with high engagement rate. Further, these platforms also help you widen reach of the content through social sharing.
Just make sure your social media platforms are not becoming a promotional tool bragging of just your products or services. Leverage the power of these platforms by offering audience a right blend of interesting, attention grabbing and valuable content via animations, hilarious videos and compelling images.
Gain insights into user behavior
Want to know what people think about your business? Do you want to bring changes in your products or services? Why not take suggestions direct from the consumers? Take their feedback, understand their expectations and satisfaction level through digital surveys or quiz. It also helps you get insights of the number of active users from the long list of followers, readers and email list.
Final words:
Content marketing still has ample scope to help you win in the highly competitive market. Just bring a creative shift in content marketing with rich media like videos, podcast, e-books, white papers, animations etc. to differentiate your business from other crowd on the internet.
Make sure you keep your SEO team in the loop while working on rich-media, as it is ultimately search engine like Google or Bing that will crawl your content and give ratings. The SEO team helps you take care of other technicalities having direct impact on rankings due to rich-media content like videos, flash, JavaScript etc.