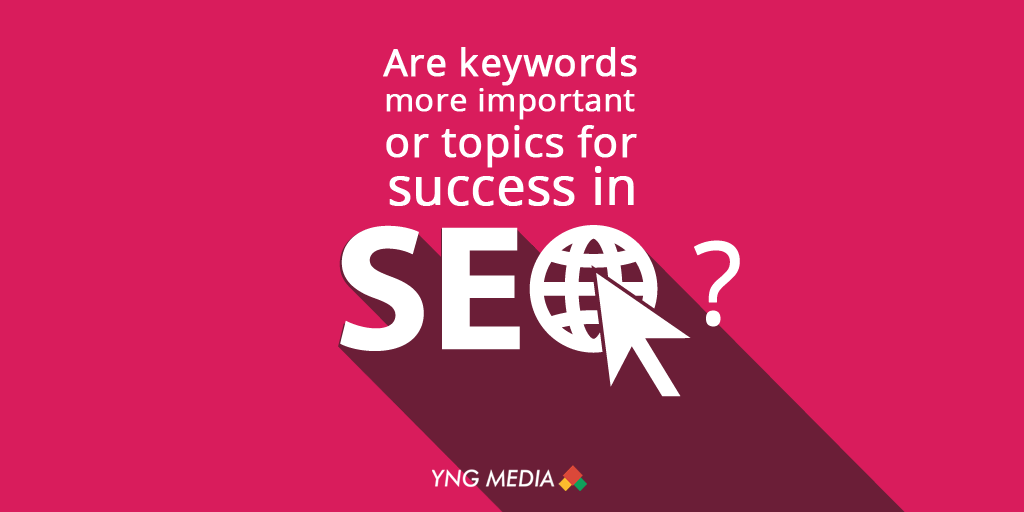 Keywords are the major target of any SEO. Though there have been many discussions on the importance of other factors for online marketing like broad topics, most of the search engine optimization experts don't want to ditch keywords. And rankings are the major concern stopping them from focusing on other aspects of SEO.
Actually, both the topics and keywords have their own importance. Some also differentiate them on the basis of old-school and new-school concepts. Google's semantic search capabilities further encourage the marketers to focus on topics by making it easier for them to select key topics rather than keywords. SEOs can now focus more on addressing the consumer queries than just over optimizing the keywords to impress Google and get rankings.
Further, after Hummingbird update, Google has stopped giving much attention to keywords like earlier. This also compels the SEO experts to include topics in their strategies than keywords. This algorithm better understands what users are searching for and offer them more valuable results than just matching the keywords. You will hardly find the results with the exact phrase; most of the results will be different but with the right solution for your query. So, if you have good topics, you have more opportunity to get ranked for the related searches. But make sure, when you focus on topics, you write for the users, not for the search engines.
Maintain a Right Balance of a Good Topic and Valuable Keywords
As both the keywords and topics are important for success in search engines, you should give equal attention to the both. Don't pick a topic for the sake of rankings and over stuff it with keywords. Your ultimate goal is to offer value to the users and this is not possible by writing a piece of article with just keywords.
Keywords also have Importance
Undoubtedly topics have gained immense popularity after Hummingbird update, keywords are still important for some SEO activities. For instance, site pages, title tags, Meta descriptions and anchor texts for links are based on keywords only.
Conclusion:
The combination of the best of the two worlds is the right strategy to win in the highly competitive online market. You cannot assure success by sticking to either of the methodologies; there needs to be a right balance between old-school and the new-school. Keywords should still be there in your online marketing strategies, but as a guideline to find valuable topics. Perform keyword research to get a right direction and succeed in the digital market.